Well-Child Care & Immunizations
Why Are Well-Child Visits Important?
Childhood is a time of rapid growth and change. Children have more well-child visits when they are younger because development is faster during these years.
Write down your questions and concerns and bring them with you. This will help you get the most out of the visit.
What does a Well-Child Visit Include?
Each visit includes a complete physical exam. At this exam, we will check your child's growth and development in order to find or prevent problems. The child's height, weight, and head circumference are recorded on a growth chart. This chart remains part of the child's medical record. Talking about your child's growth is a good place to begin a discussion about your child's general health. We can also discuss the body mass index (BMI) curve, which is the most important tool for identifying and preventing obesity.
Hearing, vision, and other screening tests will be part of some visits.
Even if your child is healthy, well-child visits are a good time to focus on your child's wellness. Talking about ways to improve care and prevent problems helps keep your child healthy.
At your well-child visits, you will get information on topics such as:
Sleep
Safety
Childhood diseases
What to expect as your child grows
We will also talk about other wellness topics such as family relationship issues, school, and access to community services.
Well Visit Schedule
After your baby is born, the next visit should be 2 to 3 days after bringing the baby home or when the baby is 2 to 4 days old (for all babies who are released from a hospital before they are 2 days old).
After that, it is recommended that visits occur at the following ages:
2 weeks
1 month
2 months
4 months
6 months
9 months
12 months
15 months
18 months
2 years
2 1/2 years
3 years
Each year after that until age 21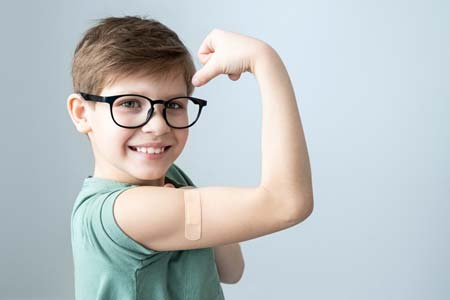 Vaccines
Vaccines "teach" your body how to defend itself when germs, such as viruses or bacteria, invade it:
Vaccines expose you to a very small, very safe amount of viruses or bacteria that have been weakened or killed.
Your immune system then learns to recognize and attack the infection if you are exposed to it later in life.
As a result, you will not become ill, or you may have a milder infection. This is a natural way to deal with infectious diseases.
Why We Need Vaccines
For a few weeks after birth, babies have some protection from germs that cause diseases. This protection is passed from their mother through the placenta before birth. After a short period, this natural protection goes away.
Vaccines help protect against many diseases that used to be much more common. Examples include tetanus, diphtheria, mumps, measles, pertussis (whooping cough), meningitis, and polio. Many of these infections can cause serious or life-threatening illnesses and may lead to life-long health problems. Because of vaccines, many of these illnesses are now rare.
Immunization Schedules