Asthma & Allergy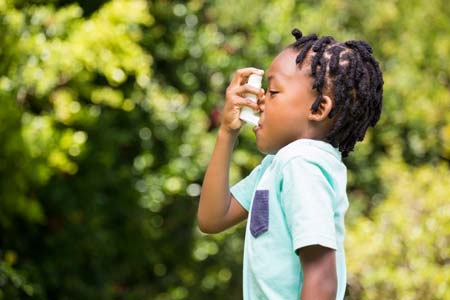 Asthma
Asthma is a chronic disease that affects your airways. Your airways are tubes that carry air in and out of your lungs. If you have asthma, the inside walls of your airways become sore and swollen.
In the United States, about 20 million people have asthma. Nearly 9 million of them are children. Children have smaller airways than adults, which makes asthma especially serious for them. Children with asthma may experience wheezing, coughing, chest tightness, and trouble breathing, especially early in the morning or at night.
Many things can cause asthma, including
Allergens - mold, pollen, animals
Irritants - cigarette smoke, air pollution
Weather - cold air, changes in weather
Exercise
Infections - flu, common cold
When asthma symptoms become worse than usual, it is called an asthma attack. Asthma is treated with two kinds of medicines: quick-relief medicines to stop asthma symptoms and long-term control medicines to prevent symptoms.
---
Allergies
Long-lasting sneezing, with a stuffy or runny nose, may signal the presence of allergic rhinitis - the collection of symptoms that affect the nose when you have an allergic reaction to something you breathe in and that lands on the lining inside the nose.
Allergies may be seasonal or can strike year-round (perennial). In most parts of the United States, plant pollens are often the cause of seasonal allergic rhinitis - more commonly called hay fever. Indoor substances, such as mold, dust mites, and pet dander, may cause the perennial kind.
Up to 40 percent of children suffer from allergic rhinitis. And children are more likely to develop allergies if one or both parents have allergies.
The U.S. Food and Drug Administration (FDA) regulates over-the-counter (OTC) and prescription medicines that offer allergy relief as well as allergen extracts used to diagnose and treat allergies. Take care to read and follow the directions provided when giving any medicine to children, including these products.